Everything You Need to Know About the Rail Planner App
The perfect companion to every trip
One of the great things about the Rail Planner app is that you can use it offline. Without internet connection, whether you're speeding between cities or taking the scenic route, it's easy to find train times that match your plans – from local and national trains to high-speed and sleeper services. The app can be used for both iOS and Android and is completely free.
By using the Planner feature on the app, you can easily find all the train schedules in Europe or if you want you can only show the ones included in Global Pass. The feature is also equipped with a selection of filters. For instance, if you don't want to spend additional costs you can select trains with no reservation required. Need to travel with your bike? You can simply tick a little square, saying "Bike carriage". However, keep in mind that whether you can travel with bikes or not depends on the type of train. For example, most high-speed trains do not accept bikes, while most local trains do.
Manage your trips in My Trip
Whether you plan in advance or on the day, you can plan your trip directly on the app. With all the train schedules in your hand, depending on your plan, there are many possible routes and trains you can choose from. Once you finish arranging a trip, you can easily save your itinerary using My Trip. Whether you have a single trip or multiple trips, My Trip allows you to add multiple routes and view them as a day-by-day itinerary. With the latest version, you can even give each trip a name on My Trip. The best thing about this feature is that you can switch your itinerary view from list to map. On the map, you can view all your journeys with your connections and track them. It also allows you to locate yourself on the map as you travel with location services.
Once you finish a journey, you can tick a little box saying "check-in" to track your journeys. You can also track your time on trains in the Statistics section. All in all, for those of you who have many trips on your bucket list, this is definitely a useful feature to keep your trips organized and to look back on your planned trips.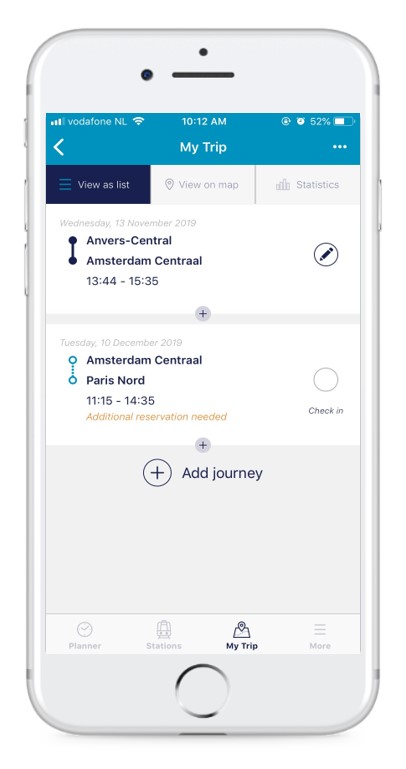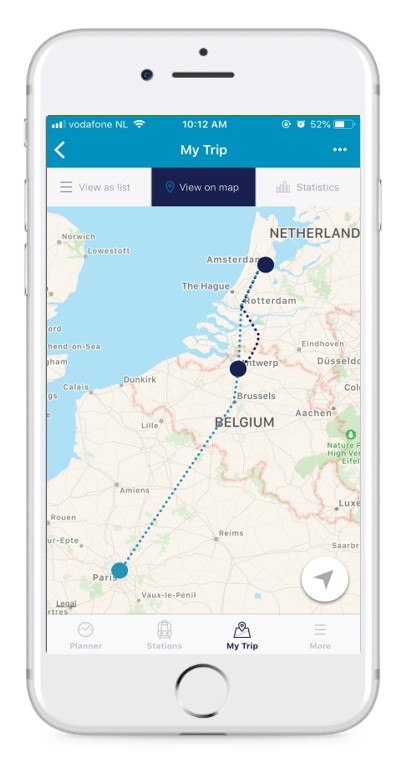 Check station boards for arrivals and departures
Ever felt an urge to change your plans at the last minute? Now you can be even more spontaneous on your travels using the newly added feature on the app called Stations which gives you more destination options. In this feature you can find which trains are scheduled to depart from or arrive at your chosen station. Once you click on a certain train number on the list, you can see the train's full journey from its origin to its destination and every stop in between. In addition, just like My Trip, besides list view, you can also see a train's journey on the map view.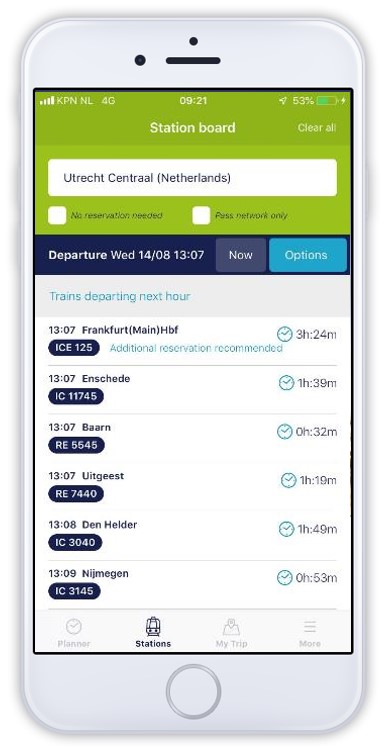 Book your reservations
Sometimes seat reservations are not included in your Pass, thus you need to spend a small fee to guarantee yourself a comfy seat on busy routes across Europe. By using the app, when you go online, you can directly book seat reservations by country. In Seat Reservation section, just select "Find seats" box to book your seat. Once you finish booking seats, the reservations will be sent to you via email.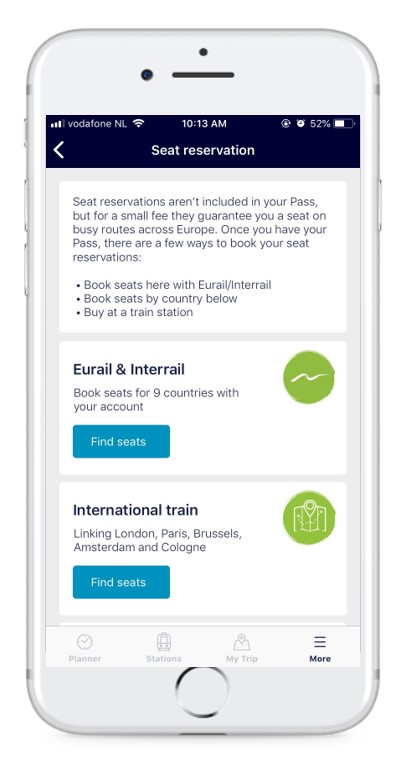 Get extra discounts
Hoping to make extra savings as you travel? The Pass benefits section can help you out. As a Eurail/Interrail Pass holder, you can receive extra benefits and hundreds of discounts on ferries, buses, accommodation and more across Europe. In the Pass benefits section, you can easily search Eurail or Interrail Pass benefits and discounts by country.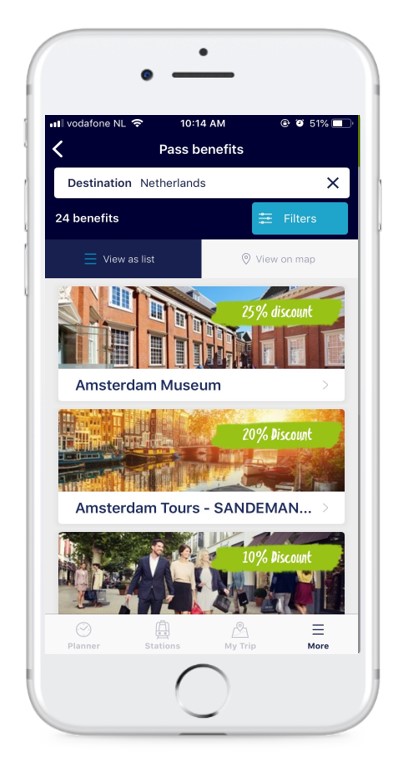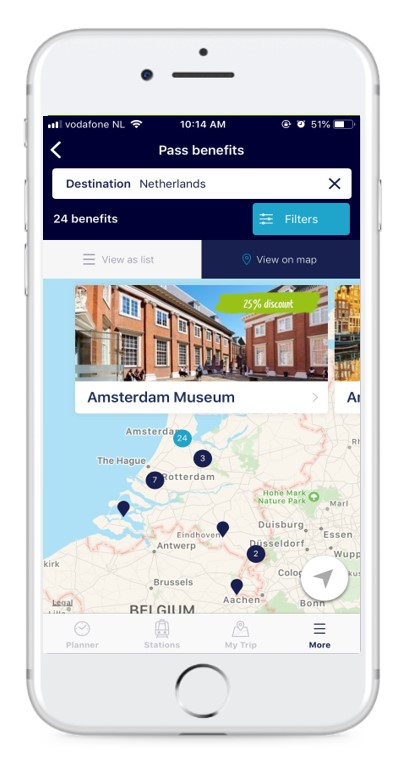 More travel info
To ease your train travel, the app provides you with a handy guide on train services in every country. You can find a list of which train types are included in your Pass and which are not. Moreover, to know what services you can expect while travelling, the app allows you to see information about services on the train, general stations services and passenger assistance. Furthermore, to save your time, if you have questions about the app or your Pass, you can find the answers you need in the FAQ section.